Event Catering by The Grounds

Creating unforgettable experiences is what we do best at The Grounds and we think it's even better shared.
Great food can define an event, that's why it's important to get it right! At The Grounds Catering, we understand that memorable events don't just make themselves. Our catering team is dedicated to ensuring that regardless of what kind of event you're hosting – from cocktail parties to functions to corporate events – you and your guests will be well looked after.
It's easy to get overwhelmed with everything that needs to be organised when planning an event, so that's where we come in to take care of all your culinary needs and serve delicious food for event guests to enjoy. With our team led by our Executive Chef, Paul McGrath, we're available for corporate occasions and personal celebrations; hosted in the office, external spaces or in a marquee. Whatever your needs our team can create an unforgettable bespoke catered event menu.
We know that events come in all shapes and sizes, and sometimes you need a little helping hand in deciding what kind of food to serve and how to carry out your plan. Our team of catering experts are on-hand and ready to hear your ideas, so that we can help you craft a memorable event. Simply fill out the form below and we'll be in touch shortly.
---
---
From seafood stations to signature "The Grounds" styled grazing tables— these make the perfect offering for your guests to, as the name suggests, graze upon throughout your event. With an assortment of meats, cheeses, fruits, and more, these are not only delicious but a striking display for your event.
---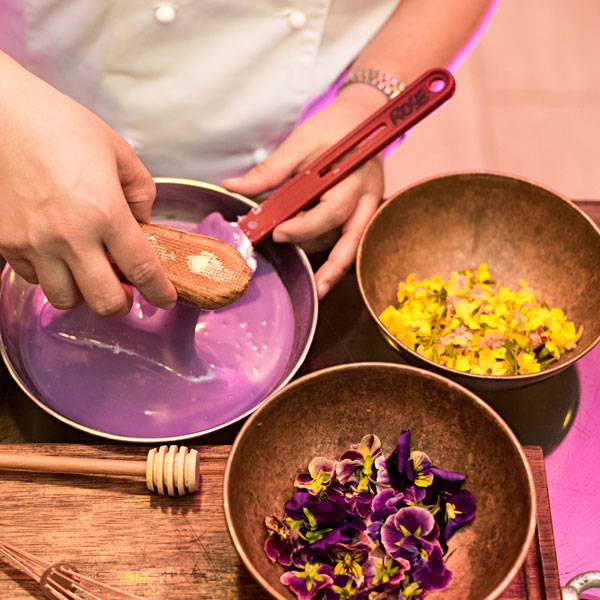 Add theatre to your event with custom food installations. Designed as an interactive way to engage your guests, our offerings can be themed to best suit your event. Whether you're looking to create a make-your-own burger station, host a chef onsite to live serve up a barbecue offering or finish the evening with a dessert cart for your guests, our team can work to bring your idea to life.
---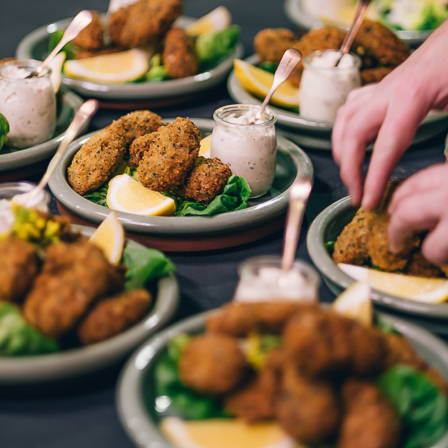 The Grounds Catering team can work with you to bring a bespoke canapé catering menu to life for your Sydney event. If you can think of an event, we can cater for it. From small parties to large-scale corporate functions and whole-day events, we provide a variety of catering options to suit every budget and event vision.
---
Fill out the form below to enquire about a grazing table, food station or bespoke catering menu for your event.
Would you prefer an easy, drop-off style of catering for your event? Shop our selection and order catering online here.
---
---
What kind of events do you cater for?
Party & Celebration Catering
For celebrations and parties, our grazing tables filled with a premium selection of cured meats, cheeses, fruits and house-made dips are the perfect choice. To fill your guests up a little more, our variety of finger foods and canapés are great addition for nibbling on throughout your event. If you have catering food ideas already in mind, our team can help you create a unique menu to match the ambience of your event.
If you're celebrating a birthday or special milestone, be sure to take a look at the many cakes our talented pastry chefs bake fresh to order. From decadent red velvet and vibrant rainbow cakes to fruity tarts and chocolatey slices, we've got something for everyone's taste. Need to cater to dietary requirement? Not to worry, a range of our desserts are gluten free so no one has to miss out on a sweet treat at your event.
For corporate event catering, our team can prepare a range of finger foods to be eaten by your colleagues and clients at boardroom meetings, functions and work gatherings. For corporate excursions and meals on-the-go, we'll also lovingly prepare packed working lunches to keep your team sustained and focused. We understand that the style and quality of event catering needs to reflect and be aligned with your brand, so our team will ensure that the food we serve – and how we serve it – is aligned with the vision for your brand and your event.
Do you cater for dietary requirements?
We believe everyone should be able to enjoy delicious food regardless of dietary requirements, so many of our catering offerings can be altered to suit the needs of you and your guests. We also know that different kinds of events call for different kinds of event catering, so whether you're after menu options that simply require delivery or a menu that needs chefs and wait staff on site, we have something for you.
Why should I choose The Grounds for my event catering?
When you choose to have your event catered by The Grounds Catering, you're choosing to give your guests a truly unforgettable experience! We only use the highest quality ingredients and we take pride in delivering our customers freshly prepared, lovingly made food. We're excited to help you plan an event where you can create new memories with friends, family and colleagues.